Zeta Sky has IT solutions for people at all levels of your organization.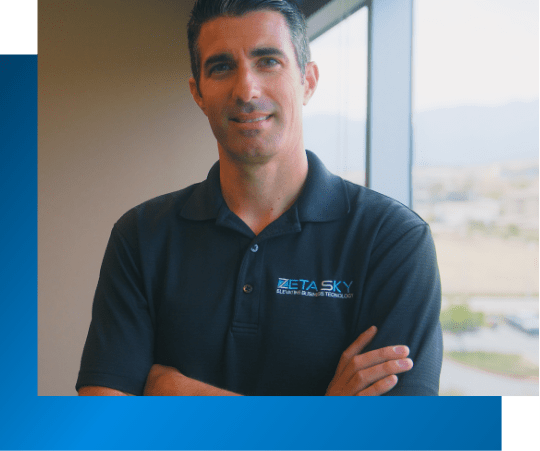 Our ownership team spent over a decade working in business IT and network security roles. What we discovered was that most business owners have neither the expertise to maintain and upgrade their servers, nor very many reliable providers to handle it for them.
If they did find trustworthy partners, they were saddled with astronomical bills and rigid contracts, and they weren't receiving the forward-thinking consulting and planning that provides real long-term value. Our conclusion was that someone had to do better.
By that time, around 2012, cloud technology had emerged as an antidote to the hassles of onsite server maintenance. So we set out to create a company of dedicated IT experts who could move businesses to the Amazon cloud and deliver greater flexibility, productivity, security, scalability, mobility, and technology ROI.
In short, we started Zeta Sky to provide relief to business owners in the manufacturing, legal, and insurance industries, and we'd welcome an opportunity to do it for you, too.
Zeta Sky practices what we preach, so in addition to treating external customers with the utmost level of professionalism and respect, we encourage staff to always do the same for their internal customers, too.
Our business also takes advantage of the cloud and its many benefits, especially the mobility it affords users. Zeta Sky employees have the opportunity to work from home and set flexible schedules so they spend less time commuting and more time assisting customers.
They assist customers according to our "pod system," where dedicated teams of employees are assigned to small groups of accounts. This ensures that our technicians are familiar with the clients they're tasked with supporting, and allows them to deliver a more personalized service.
We believe business is all about personal relationships, so our hiring process for technicians is rigorous. We only employ team members who strive to outperform the typical "outsourced IT guy," and who truly care about our clients and their long-term success.