Citrix Technology Experts
We help companies deploy, audit, and optimize their Citrix environment
Are you facing these typical Citrix issues?:
For most businesses using the Citrix platform, these issues result from improper
implementation or maintenance.
Zeta Sky is the Inland Empire's Citrix expert
As an authorized Citrix Service Provider, you can rely on us to solve any performance issues in your Citrix environment. Contact us today to start taking full advantage of the productivity and security benefits offered by Citrix Systems.
"I don't have to worry about downtime. I don't have to worry about any latency delays on our side because we have to wait for a file to get there. As soon as I put it on the cloud that Zeta Sky provides us, it's instant. My guys already have it and they can already start to work."
Jay Crouch, Director
Global Business Development
Injen Technology
Why are SMB's switching to Citrix?
Because the modern workforce is on the move, at multiple locations on multiple devices, with a mix of traditional and cloud software. Even small businesses are demanding more remote working capabilities. Citrix is a unifying digital workspace platform that gives businesses a better way to operate. It delivers the mobile networking your team needs to be productive while providing the simplicity, security, and visibility to manage it all.
With over 80% of organizations saying IT complexity is a major risk factor, the Citrix system simplifies performance, security, and strategy.
As your authorized Service Provider, we make the Citrix promise a reality:
You can keep your focus on growing your business while fully leveraging the Citrix productivity and security features.
Citrix is easy with Zeta Sky
Fill out the form and one of our Citrix consultants will be in touch right away!
Fill out the form to get in touch with us. Things move quicker if we know your headcount, number of servers, core applications, and overview of any current Citrix deployment.
You can learn about our Citrix services, and we can better understand your business, your IT system, and what you need the platform to do.
Our services are extremely cost-effective, scalable, and predictable for easy budgeting and ROI tracking.
READY? FILL OUT THE FORM AND
YOU'LL HEAR FROM US SHORTLY!
Our partnership with Citrix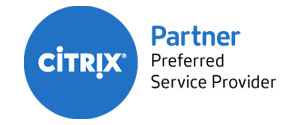 Citrix is used by virtually all Fortune 500 companies and a growing number of small and medium sized businesses.